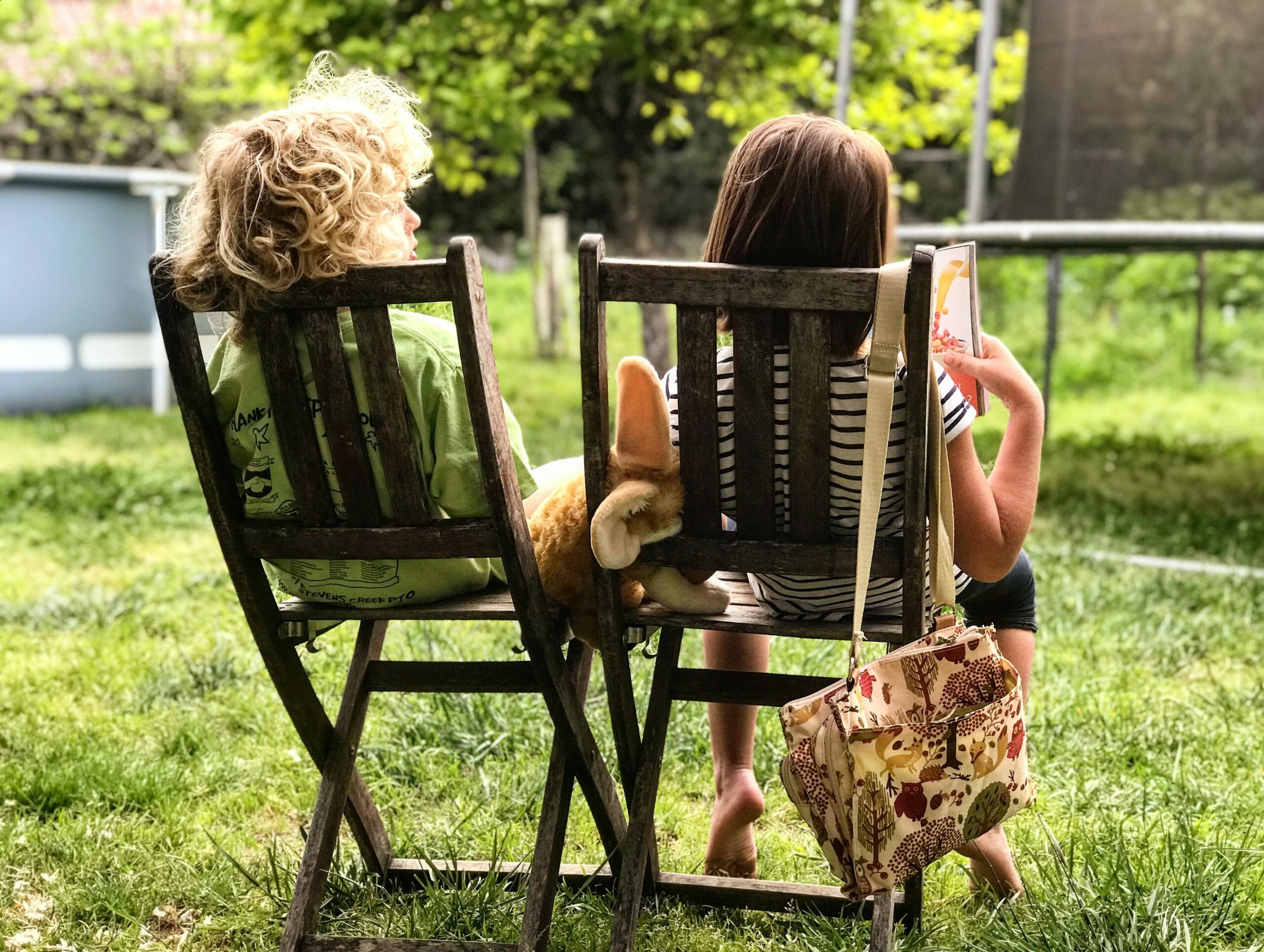 The primary focus of any divorce with children is to make things as easy for them as possible. There are lots of things to hash out, and it's likely that you and the other parent will have some disagreements and growing pains as you navigate life as two families instead of one, but keeping the focus on what is in the best interests of the children can help everyone remember what is really the most important thing right now.

Whether you've already told your kids that you're getting a divorce or you're still trying to figure out the best way to make the announcement, it can help to have something that shows your children that they aren't alone in this experience and helps give them the tools to work through their emotions. Thankfully, people who have been through divorces have taken this task very seriously and written some great books that you can read with younger children or give to older teens to help them understand what's happening and help them through it. We've included our favorites below.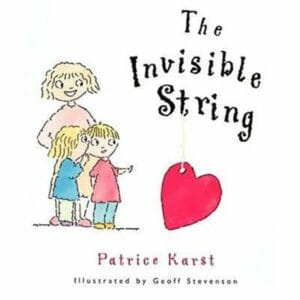 Age Group: Children ages 2 to 4
Number of Pages: 36

Written for younger children, The Invisible String is a book that acknowledges the fears your children may have about being separated from one parent when visiting the other or no longer living with both. It talks about an invisible string that always connects us with the people we love, so even when we aren't around them physically, we can be sure that they are thinking about us and still love us just as much.

The illustrations in the book are the main focus, which makes it a good choice for younger children who may aren't able to read independently yet. Try reading it with your child at first, pointing out the pictures and how they connect to the words and the underlying message. You might encourage some further discussion by asking them what their favorite part about the book was or if there was anything that they didn't understand or seemed troublesome. This can give you insight into how your child is feeling and what they may be thinking about the separation.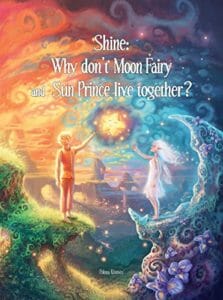 Age Group: Children ages 6 to 10
Pages: 42

In Shine: Why Don't Moon Fairy & Sun Prince Live Together? Polona Kisovec takes the reality of divorce and turns it into a fairy tale that shows that sometimes the heroes can't win all the battles but that their love for their children is something that never changes. The book presents the story of a couple who were in love and happy but then situations changed and they had to adapt, which meant living apart. The story includes some emotions for the main characters, which can be very helpful for children to understand that no one is happy about a divorce and that it's difficult and emotional for everyone, including the parents.

While this book is also a great choice to read aloud to a younger child, it's especially well-suited for children who are already independent readers and who many have an interest in fantasy worlds and adventure stories. The illustrations are just as beautiful as the written story and the message of "It's going to be OK" is one that many children need the opportunity to hear — or read — over and over again during this time.
3. Two Homes by Claire Masurel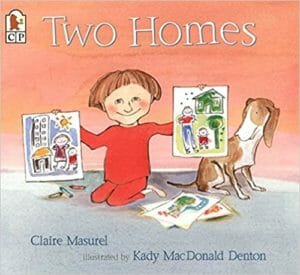 Age Group: Children ages 3 to 7
Pages: 40

Two Homes by Claire Masurel has much the same focus on reminding children that they are loved by both parents even if the family isn't together all the time, but it hones in even more on the idea of having to go from one house to the next. It talks about the differences and similarities between Mommy's house and Daddy's house and can help children look for the positives and the good things that come from shared custody and having two homes instead of staying caught in the difficulties and resistance that comes with major change.

This book is a short read with lots of warm, child-friendly pictures and can be a good follow-up tool to address children's questions about what life in two houses will look like after you've already told them the divorce is happening. It can even be helpful to have a hard copy at both houses so that you can both walk your child through the book and point out some of the ways their life is the same as the main character's.
4. Now What Do I Do?: A Guide to Help Teenagers with Their Parents' Separation or Divorce by Lynn Cassella-Kapusinski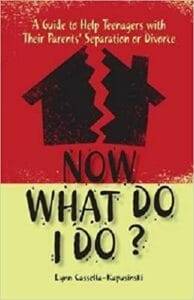 Age Group: Children ages 10 and up
Pages: 174

Helping a tween or teenager through a divorce is very different from reassuring a younger child, but that's where books like Now What Do I Do? come in. It focuses on presenting the issues that come with divorce and the feelings your teen may be dealing with in a way they can relate to and connect with. It's centered around helping children identify and put words to the emotions they may be feeling and gives them tools and strategies for coping with those feelings as well as situations that may arise, such as doing holidays separately.

Divorce books for teens and tweens are usually more hands-off when it comes to parental involvement, but it's still a good idea to let your child know that you realize this is a difficult time for them and that they may prefer to talk to friends or other trusted adults but that you're still there if they have questions or need anything. You might also want to check back in after they've had a chance to read the book and see if anything's come up that they want to discuss. Don't be surprised if you get the "it was stupid" or an eye roll. It's common at this age for children to not want to seem uncool or like they needed help and to downplay how much they might have related to the book and the message.
5. The Divorce Workbook for Teens: Activities to Help You Move Beyond the Break Up: Activities to Help Teens Move Beyond the Break Up by Lisa Schab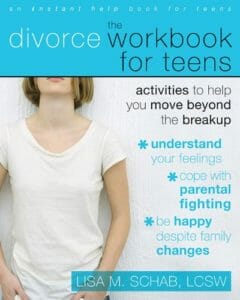 Reading about something is good, and getting advice on how to deal with divorce is great, but Lisa Schab takes it to the next level by giving teens an actual workbook to help them deal with the divorce and start moving toward a positive future. The book includes pen and paper activities and worksheets that give teens something to do to start working through their emotions and preparing for life post-divorce. It's been a favorite of many school counselors and mental health professionals and receives rave reviews for being a practical tool to help teens get through divorce as smoothly as possible.

While this book is very well-rounded and covers all of the various aspects of divorce and how you're teen may be feeling, the workbook style means your teen will only get out of it what they put in. This may mean that this book is best suited for teens who are actively interested in learning how to cope during this time or as a tool to be used alongside counseling appointments or group meetings for teens whose parents are divorcing.

Talking to Children About Divorce
When you're talking to your children about divorce, remember that it's important to present a united front if at all possible. They will likely handle the news better if it comes from both parents saying the same thing at the same time. This also shows that the decision was a joint one, so there's no need to side with one parent over the other. Communicate what's happening and how it's going to affect practical things like living arrangements or school as clearly and concisely as possible, focusing on keeping the details age-appropriate.

It's also a good idea to be prepared to have to revisit the conversation. Children may have more questions or concerns as they process the news or may have periods where they are angry or sad. Being open to continued communication about the divorce and the changes it brings can help your children feel like they can talk to you and express their emotions, which will help them better deal with them in the long run.
*digitale version