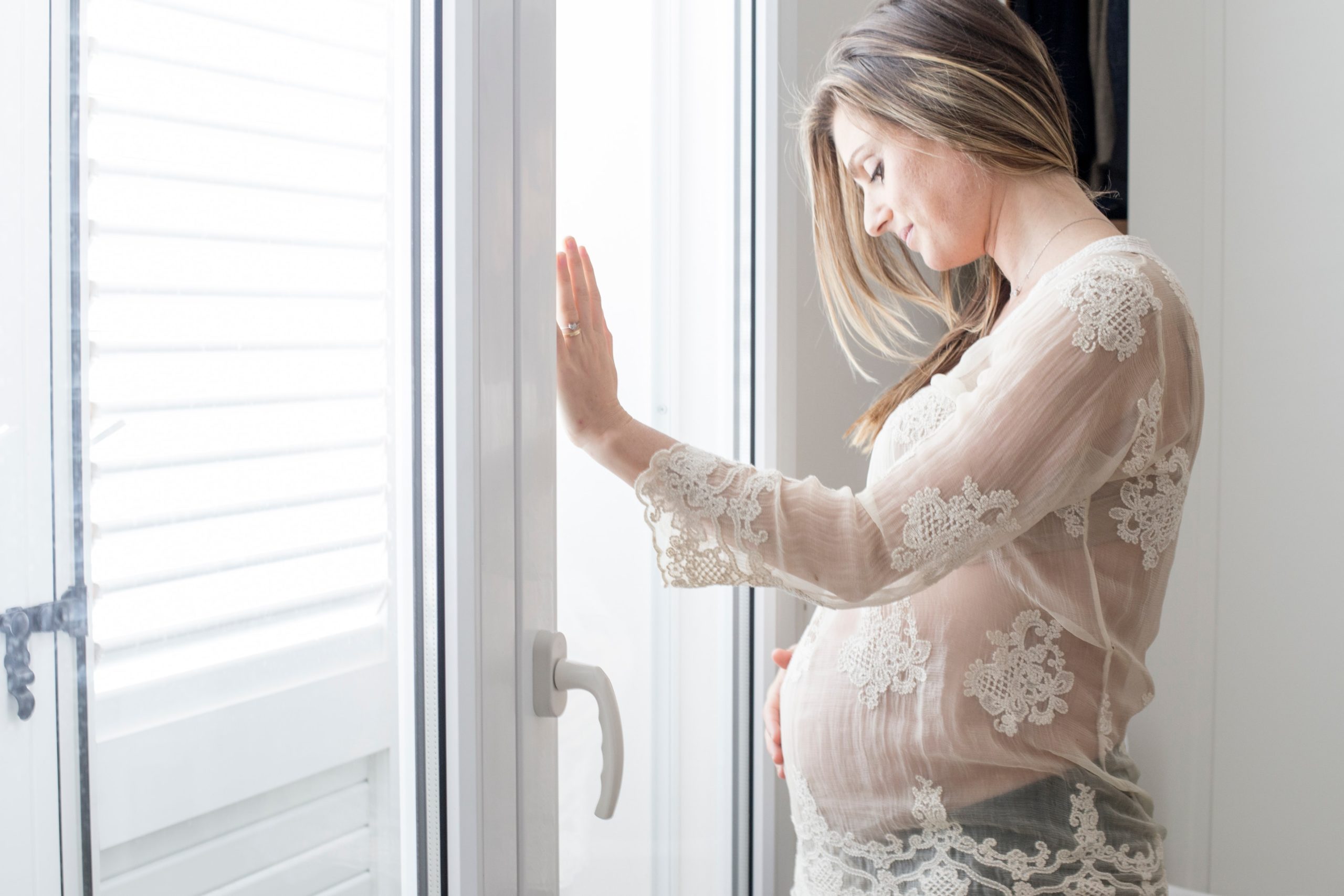 Overcoming a breakup is challenging no matter what the circumstances are. But when you're pregnant things become a whole lot more complicated. However, that does not mean they are impossible to manage. Even though it might feel like the world is crumbling before your eyes, this shift in trajectory might be what is best for you and your child in the long run.
Women have been birthing and raising children since the dawn of time. And many of them have triumphantly done so without the support of a biological father.
That said, it's important to remember that whatever your emotional response to this is, it's okay.
Managing a breakup while pregnant is a tough challenge to accept. But you can emerge from this situation stronger, happier, and more yourself than ever before.

Feeling Overwhelmed Is Natural
If you've found yourself in this position, chances are you are feeling overwhelmed and possibly even scared. Both of these reactions are completely understandable and natural.
Before the breakup, you probably had an expectation about how your pregnancy experience would be. Now, those expectations have not come to fruition, and co-parenting and custody are an unexpected part of your future. Dashed expectations are always difficult to handle, especially if there is a long-term emotional investment involved.
Being pregnant is probably one of the most emotionally turbulent experiences a human can have. So, it's important to maintain a sense of compassion for how you're naturally responding to the situation.

An Opportunity To Revisit Your Relationship With Yourself
Even though it probably doesn't feel like it, this change in plans could give rise to a renewed sense of intimacy and understanding of yourself.
Many women report gaining mental and emotional clarity when pregnant, saying it allows them to see the world in ways that maybe they were afraid of before. Being away from your partner can give you the opportunity to reconnect with parts of yourself that you've forgotten, or suppressed.
This time could represent a moment of clarity for you to look inward and process your position in life without the distraction (and in some cases, the suffocation) of a serious relationship.
Now is the time to embrace all aspects of who you are—your past, your present, and your future, in whatever ways it may unfold.
There's no point in pretending that dealing with a breakup while pregnant is easy. But that doesn't mean it can't be a catalyst for other changes in your life that you may have been putting off for a while.
Ways To Cope
While holding space for the emotional and mental responses that are currently going on inside of you, it's also important to focus on practical solutions.
Having a game plan for dealing and coping with the pregnancy will add structure to your life. Plus, it will enable you to tackle each challenge with more confidence.
Seeking guidance from others, reaching out for support, and finding constructive ways to cope with stress or anxiety are going to be your primary objectives over the next few months.
With the right approach, you and every other woman in this position can break through the inevitable struggles. You can create a life for you and your baby that is even better than you could have imagined alongside your ex.
Give yourself time to grieve
Grief is a normal response to any breakup, especially in your adult life. You've probably spent years investing time and energy into your past relationship. Now that it has come to an end, you are grieving all that was lost.
Grief can manifest in a variety of ways, and it is usually different for each person. Your experience with grief will not necessarily be the same as anyone else's. You need to give yourself room to meet those feelings, no matter what they look like.
Crying, laughing, sleeping, or baking (yes, stress-baking is not an uncommon occurrence) are just some of the things you might feel compelled to do while processing grief.
Allow yourself the time and space necessary to process your grief in whatever ways feel natural. Freely and unapologetically holding space for your grief is the most effective way to process it.
Choose not to dwell on the past
When life hits you out of nowhere, it can be easy to want to relive the past. However, romanticizing and fixating on the past can prevent us from being fully present. With a new child on the way, being present is critical for their support.
In order to effectively manage your situation, you will need to show up for yourself and your future child in ways that can initially feel scary and daunting.
Looking at photographs of you and your ex, going through their old belongings—these are both things that feel tempting and comforting at the time. But often, they only result in more pain. Try to be strong in those moments and resist the urge to dwell on the past.
Lean on friends and family for support
This is not the time to feel shy about asking for help and support. Friends, family, neighbors, and loved ones of all kinds want to be there for you. Don't be afraid to lean on them for support when things get tough, or even when you just need someone to talk to.
Anyone in your life who knows you and loves you almost certainly wants to help you get through this. You don't need to feel guilty about needing support. It's completely reasonable for you to lean on others during this time of confusion.
If somebody you trust offers to help you (whether it is financially, emotionally, domestically or otherwise), have the courage to take them up on that offer. You deserve to feel supported. Don't be shy to speak up and vocalize your needs to those who care.
Try to make peace with your situation
There's no point in fighting the reality of your situation. Even though it might take some time, and that is completely acceptable, making peace with how things have unfolded is the best way to take back charge over your life.
Making peace with your situation is not something that will happen overnight. It will probably come alongside a lifelong journey of self-acceptance.
You might be feeling angry, hurt, and ready to blame your ex for every hardship you are experiencing. However, those feelings can become destructive when left unchecked.
Where possible, try to make amends with your ex. If that's not an option, aim to make amends with yourself.
The breakup has already happened, now you get to choose how you respond to your newfound independence. Will it be with peace and acceptance or anger and regret? Guess which one will be easier in the long run.
Find constructive ways to manage your stress levels
Everyone needs to know what their stress triggers are and how to manage their responses. In your position, it's only natural to anticipate some stress and anxiety from time to time.
Rather than allowing this notion to send your head spinning, focus instead on constructive methods of stress management that you know you can rely on in times of distress. Having a plan of action for when things feel overwhelming will make you feel stronger and more prepared for life.
A walk in nature, calming breathing exercises, or watching your favorite movie with a friend can all help to reduce your stress levels. Make sure you have a list of feel-good activities prepped and ready to go when you need some comfort and grounding.
Focus on supporting your baby and your body
The perfect place to funnel your attention is sitting right under your nose—in your womb, to be exact. The admin involved in a serious breakup may be distracting. But the best place to invest your time and energy right now is directly towards your baby and the body that grows them.
Now is the time to pour all of your love, attention, and energy into the health and wellbeing of both your own body and state of mind, and that of your unborn child.
Focusing on keeping your body strong, happy, and nourished will mean that, in turn, your baby's body is strong, happy, and nourished. Shower yourself and your baby in love through the forms of good food, gentle exercise, community bonding, and preparation for birth.
Remember that you are not alone
Even though it might feel at times like this is the worst thing that could have happened, it can be soothing to remember that this is an experience you share with millions of other women throughout the ages.
Remember that you are not alone. Not just in the sense that there are people around you who love and care for you. But also in the sense that you are certainly not the first woman to go through this process— and come out the other end happier and more fulfilled than ever before.
Yes, this is a huge change of direction for your life and your child's life. But at the end of the day, you get to decide how this experience will unfold. You are going to get through this!