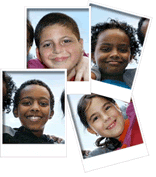 1. The right to be treated as important and separate human beings with unique feelings, needs, ideas, and desires, not existing solely to gratify the needs of their parents.
2. The right to not participate in the painful games parents play to hurt each other, or be put in the middle of their battles.
3. The right not to be a go-between or a message courier for their parents.
4. The right to a continuing, relaxed, and secure relationship with both parents.
5. The right to express love and affection for, and receive love and affection from both parents.
6. The right to know that expressions of love between children and parents will not cause fear, disapproval, or other negative consequences.
7. The right to know that their parents decision to divorce is not their fault.
8. The right to know that it is not their responsibility to keep their parents together.
9. The right to continuing care and guidance from both parents.
Read more…
by The New Jersey Chapter of the Association of Family and Conciliation Courts