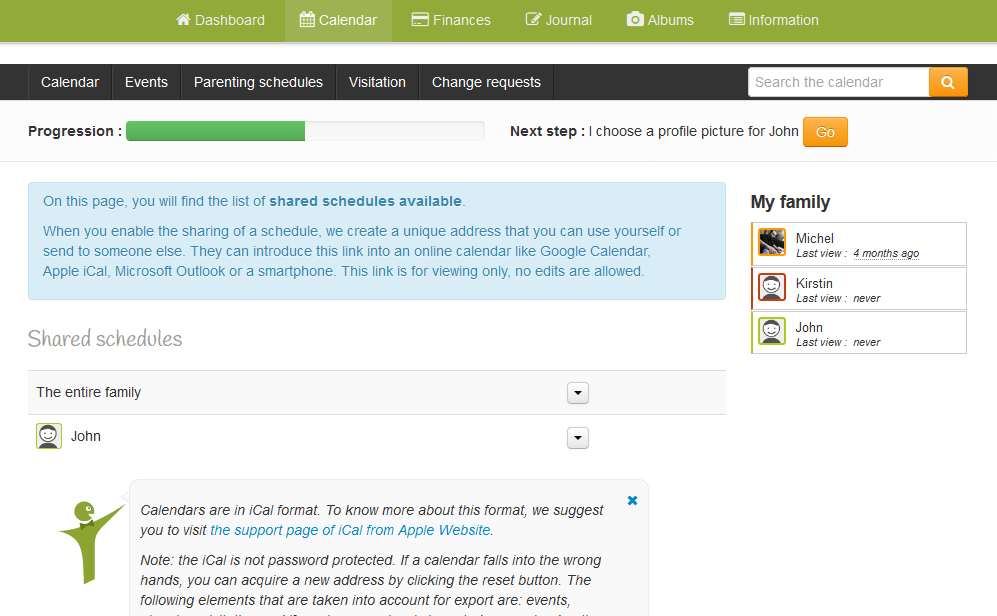 Exporting your calendar lets you have your calendar on the programs and devices you you want and also allows you to share your calendar with someone else.
Just follow these steps:
1) First, click on "Calendar" in the upper menu, then click on the
"Share the schedule" icon.
2) You're now in the menu to share your calendar. You have to choose which calendar to share, the one of the entire family or the one linked to a child. Once you made your choice, click on the arrow on the right to display the menu. You'll have to choose between 4 options:
1- Show the address (The system will give you an address to download the .ics file links to your calendar. You can share this address, add it to your programs that manage your calendar, such as Google Calendar or the calendar on your smartphone.)
2- Send the address by email (Instead of showing the address, the system will send you the address by email.)
3- Disable (The system will disable the export of your calenda. You can enable it again later.)
4- Reset (Let the system give you a new address to download your calendar. If your calendar falls into the wrong hands, you can get a new address by clicking on the reset button.)
You will find more details on synchronization with a smartphone here.
Calendars are in iCal format. To learn more about this format, we suggest you visit the support page of iCal from Apple Website.
That's all that's to it! You have shared your calendar! It's that easy! Keep in mind that when you edit your calendar in 2houses, the changes will also happen automatically everywhere you or someone else added the address.